Science fiction is constantly pushing the limits of our imagination, forcing us to question the paths in which human progress and ingenuity will take us. However, very rarely in history do many works reach levels of such philosophical, social, and emotional depth  that they force us to look not only inside ourselves, but at our society as a whole, and to the core of what makes us human. Philip k Dick's work has always brought these things to light, pushing fans to think outside the box and really see the truth through the smoke and mirrors.
Synopsis (spoiler alert):
I recently picked up BOOM studios release of "Do Androids Dream of Electric Sheep?", which is a verbatim translation of the book but in graphic novel form. Tony Parker's dark renderings of Dicks dystopian-noir future, immerse the reader in a world where massive corporate structures reduce the average person to ants, and technological perseverance has outgrown whats left of a post "World War Terminus" planet Earth. Many people have left earth for off world colonies and as an incentive for emigrating, have been given an android companion. Those left on earth live in the remaining city filth, which often does not see sunlight due to toxic clouds that fill the skies almost all of the time. In this future people utilize machines called "mood organs" which allow them to punch in any kind of emotions they wish, for any number of feelings or situations they could be in. Many are reliant on these machines and have forgotten how to really feel, as the world has degraded around them, leaving little in the way of personal happiness.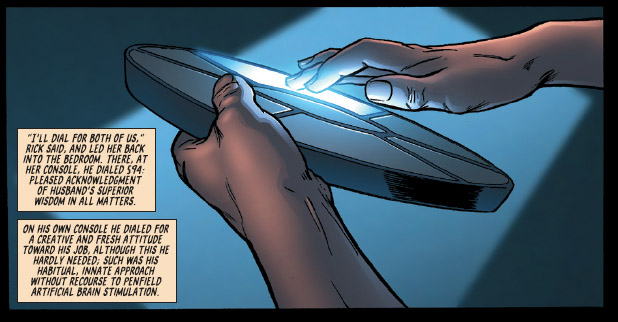 Bounty hunter Rick Deckard awakes to an argument with his wife about her use of her mood organ because she frequently punches in negative emotions like sadness and depression. This has put a strain on their relationship and Rick protests against using the machine. He leaves to go up to his hover car parked roof where his neighbor and him discuss the value and status of owning a real life animal. Many animals are extinct due to the ash left by world war terminus; and since humans have grown a intense sentiment for their companionship. Rick fantasizes about owning a real life sheep some day and will stop at nothing to feel the attachment that comes with a living animal. He leaves for work and is surprised as to what he finds when he gets there.
Upon his arrival Rick Deckard finds that he is now responsible to retire 6 rogue "Nexus 6" androids, which have apparently escaped from an off world colony and have attempted to settle in San Francisco. Rick is to administer the Voight-Kampff test on them, which is a test involving a series of questions to determine empathy, a trait that androids lack. Rick is assigned the task of retiring the androids because his senior officer Dave Holden, was attacked while giving the Voight-Kampff to one and is in a hospital recuperating. Rick sees this hunt as a chance to get enough money to finally afford a living sheep, which he is constantly researching in his Sydney's catalog. This begins Deckards 24 hr manhunt to find the androids and….himself. On his journey, Deckard finds that the androids have integrated themselves into many aspects of society already and that the nexus 6 is the closest thing to a human he has ever seen.  He eventually catches up with them and learns a lot more about himself then he ever had imagined.
Alongside the story of Deckard is that of J.R Isidore, who is a "special", someone genetically damaged and unfit to leave earth and emigrate  to the off world colony. He lives alone in an abandoned apartment complex and is in constant use of his "Empathy Box", which allows him to completely immerse himself in the pain and struggle of Wilber Mercer. Upon use of the Empathy box, ones mind is transported, along with thousands of other users, into the mind and body of Wilber Mercer. Mercer is an old man, constantly climbing a mountain and having rocks thrown at him. This is a very real experience for those using the empathy box and any pain inflicted by rocks is actually done to them in the real world. This shared mutual pain and struggle has created somewhat of a religious cult called Mercerism. Those who follow Mercer believe in his existence and the idea that no matter how bad things are, you are never alone and that their are others out there like you who feel the way you do. At the same time throughout the story their is an opposing television icon called Buster Friendly who is most likely an android, as his show runs for 23 hours a day and is only off for one hour. Buster Friendly is the force of anti-Mercerism but provides hours of entertainment for those willing to watch. He ends up exposing/debunking Mercerism on live television in a grand announcement which is televised worldwide. Isidore's loneliess turns into a desperate friendship with android Pris, who uses J.R's apartment as a hideout for her and the rest of her android comrades. The escaped androids believe that Mercerism is a hoax and discredit Isidore's beliefs leaving him empty.
Thoughts:
This book was also made into a Ridley Scott film titled "Blade Runner" in 1982, starring Harrison Ford, which received critical acclaim from fans of the book as well as general fans of science fiction. I personally think that the message the book attempts to convey, is not as directly portrayed in the film. The book really emphasizes Deckards aloneness, emptiness, and his questions on the morality of what it means to be human. Many other aspects involving the two major religious themes in the book (Buster Friendly and that of Mercerism) are lost in the movie. Many more things also happen in the book that develop these ideas more thoroughly, while also painting a deeper picture of Deckards inner turmoil, and the desperate cling to empathy to retain his humanity. Deckard questions if he is any different then the androids he is hunting.
One thing that i found interesting about Dicks character Buster friendly is the channel that one must dial in to view him: 888. In the bible the number of man is 5, the devil 6, and god 7. As i was reading this i wondered if this was Philip K Dicks way of telling us that television is the next religion. Television provides people with an escape from their everyday life by creating dramatic fantasies. It allows them to relate to something imaginary and be controlled and influenced by pixels of light. In a post apocalyptic future where everything has gone to hell, it is not hard to believe that humans would yearn for an escape as simple as this, and we see Buster Friendly's influence in his discredit of Mercerism.
Overall, Do Androids Dream of Electric Sheep is a masterful work and deserves every bit of credit that it gets. This story leaves the reader with many questions of their own and i believe that any writer that can make his audience question what makes them human, well they've done their job. If you haven't read this book pick it up!
Thank you PKD.